Reviews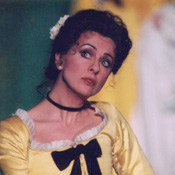 Review Archive
Merry Widow - Hanna Glawari (Opera Holland Park)
Opera Magazine, Warick Thomson
September 2006

"Rebecca Caine was marvelous as Hanna. Her firm, clear voice and excellent diction were a pleasure, and her acting was just knowing enough without ever being arch. Her timing was perfect, her jokes landed properly, and her " Vilja" was beautifully done "
The Times, Neil Fisher
7 July 2006
"Best of all thankfully, is the Widow herself, the glamorous, magnetic, Hanna Glawari. Rebecca Caine sings the wistful " Vilja" with silky elegance, dances with infectious panache, and gives us a multi shaded heroine to cherish - just as vulnerable as she is feisty, Its a performance to treasure , and it's the one that breaks through all the surface gloss to find the true emotional heart of Lehar's confection.
In a mixed season so far at Opera Holland Park, Caine's show- stealing turn is an undoubted highlight. "
The Independent On Sunday, Anna Picard
7 July 2006
" As the eponymous heiress, Rebecca Caine slips effortlessly between artful flirtation and artless candour, looking a million dollars and singing with a sweet, delicate soprano"
The Independent, Edward Seckerson
4 July
"Hanna, of course, should be the star of the show and was in Rebecca Caine's glamorous and beautifully sung performance. This Widow was merry all right- but she was wistful and nostalgic, too. And most importantly, she commanded respect."
L'elisir d'amore – Adina (New Zealand International Arts Festival/New Zealand Opera)
Opera-Opera Magazine, Australia, Lindis Taylor
April 2004
"The Canadian soprano showed splendid gifts for this sort of a role. There was no difficulty seeing or hearing her as the vivacious young woman, capable of thoughtless flirting, but when things get serious of demonstrating good sense, her voice was brilliant, agile and well-projecting".
Capital Times Review, Amy Cameron
10th March 2004
"Rebecca Caine glowed in the role of Adina. She stood out as the most committed performer, consistently producing a beautiful sound paired with intelligent, musical phrasing".
Julietta – Julietta (Opera North)
The Financial Times
1st April 2003
"Canadian soprano Rebecca Caine, bright-voiced and fetching, acts the sexily elusive Julietta to the hilt".
The Daily Telegraph, Ivan Hewett
29th March 2003
"Rebecca Caine makes a tall, vocally and dramatically striking Julietta, a figure one could believe would inspire an obsession".
Yorkshire Evening Post, Martin Woods
28th March 2003
"As Julietta, the night had its star performer. Rebecca Caine was utterly convincing, her rich voice and diction secure and crystal clear throughout…as distractions go, this sublime vision was close to perfect".
The Classical Source, Alexander Campbell
8th May 2003
"Rebecca Caine was an alluring and enigmatic Julietta…reacting in a most disturbing way to the inhabitants' dreams of her".
Opera Magazine, Martin Dreyer
June 2003
"Rebecca Caine's Julietta was unquestionably the girl of Mischa's dreams. She moved like a sylph, but always with a touch of the coquette, just enough to tease Mischa's hopes of success while remaining tantalizingly out of reach, indeed other-worldly. There was something remote too, in her floated soprano, which exactly matched her vacant eyes. Delivering such a persona must have taken courage, but it worked, superbly".
Le Nozze di Figaro – Susanna (English National Opera)
The Financial Times, Richard Fairman
19th February 1997
"Rebecca Caine's bright Susanna – intelligent, quick-witted, but also delightfully natural – was opera coming alive as drama".
The Seven Deadly Sins – Anna 1 (Opera North)
The Observer, Anthony Holden
May 23rd 2004
"Rebecca Caine and Beate Vollack are both superb as the singing and dancing Annas … where Caine is elegant and eloquent, Vollack is agile and courageous".
The Sunday Telegraph, Michael Kennedy
May 23rd 2004
"…the score is Weill at his pungent best and its admirers will relish this staging and particularly Rebecca Caine's perfectly judged and stylish singing of Anna".
The Daily Telegraph, Rupert Christiansen
18th May 2004
"Rebecca Caine makes a smartly sardonic Anna 1, spitting sweet venom like little miss prim. She can dance well too, which makes her double act with Anna 2 even more persuasive".
Cosi fan tutte – Despina (The Canadian Opera Company)
The Financial Post, Wayne Gooding
21st November 1992
"The COC played up the appearance of Rebecca Caine as Despina, the sassy maid, in its marketing. She is best known to Canadian audiences as the star of The Phantom of the Opera and to opera goers for her stunning performance with the COC last year in Alban Berg's Lulu. Now she proves a wonderful Mozartian, spinning out vocal lines of great beauty. Caine's is easily the most assured comic performance".
The Globe and Mail, Urjo Kareda
13th November 1992
"Rebecca Caine followed her remarkable Lulu for the COC last year with a vivid, no-nonsense performance as the maid Despina; this isn't a star role, and Rebecca Caine seems a bit wasted on anything less but her amazing ease on stage was steadying and welcoming".
Cosi fan tutte – Despina (Scottish Opera)
Opera Magazine, John Allison
July 2002,

"Two performances stood out, most of all Rebecca Caine's sassy Despina. She is a real stage animal who moves with style and relishes her words, putting her performance here in a class of its own. But unlike some Despinas, she is as good vocally as she is a comedienne, and yet her smooth let sparkling soprano made you wish she was singing Fioridiligi (and that we would hear more of her in Britain)".
Mr Emmett Takes a Walk – Female Roles (St Magnus Festival, Orkney)
Opera Now, Roderic Dunnett
February 2001
"Rebecca Caine, cast as a series of nauseous piping femmes fatales, is a stunning musical theatre find. She casts spells in a breathily seductive mezzo or piping high queen of the night tessitura as engagingly as she acts".
Cunning Little Vixen – Vixen (Spoleto Festival, Italy)
The Independent on Sunday, Michael White
19th July 1998
"Rebecca Caine's Vixen was among the best I have ever seen or heard: a foxy lady in a fur coat and no knickers (as we all discovered when the fur came off. Some family show)".
Cunning Little Vixen – Vixen (The Canadian Opera Company)
The Globe and Mail, Alan Horgan
29th January 1998
"The title role of sharp-ears the Vixen seemed vocally and dramatically tailor-made for soprano Rebecca Caine. Her animal movements were so plausible, it was difficult to watch anyone else whilst she was on stage".
Opera Magazine, Peter Dyson
May 1998
"Rebecca Caine seems to have been born and trained to play the Vixen; her secure lyric soprano easily encompassed the vocal line, fragmented or extended, and coupled with her lithe physical grace and incisive acting to make her an enchanting figure".
Hamlet – Ophélie (Opera North)
Opera News, Tom Sutcliffe
17th February 1996
"Rebecca Caine's Ophélie provided the emotional peak, her mad scene genuinely affecting…"
The Independent on Sunday, Michael White
24th September 1995
"Rebecca Caine, a young Canadian soprano with a creamily seductive coloratura, is a glorious Ophelia, filling out the sectionalized acreage of her mad scene with commanding stature"
The Guardian, Andrew Clements
23rd September 1995
"Rebecca Caine elegantly negotiates her way through Ophelia's vocal filigree and makes her suicide – easing her way into a mirrored pool as if she were entering some kind of sensory depravation chamber – more effecting than at first it promised to be".
The Sunday Times, Hugh Canning, 30th October 1994
Opera Magazine, Ian Brunskill, December 1994
"The Pamina of the Canadian soprano Rebecca Caine, combining grace with gritty determination was a worthy object of desire".
Playing Away – LA Lola (Opera North)
The Times Literary Supplement, Wilfred Mellers
24th June 1994
"The popstar, LA Lola has terrific charisma, eliciting a scary awe as well as lustful compliance from her adorers; she is superbly played by Rebecca Caine, who managed to be both magnetic and seedy".
Lulu – Lulu (The Canadian Opera Company)
The Globe and Mail, Robert Everett-Green
15th April 1991
"There are many show-biz myths, but the biggest is the one about the underrated neophyte who lands the big part and, against all odds, scores a hit. Rebecca Caine added a twist to that scenario, sailing through the title role of Alban Berg's Lulu as though she had been singing such stuff for years.
Caine's mixed theatre background was more help than hindrance, giving her an assurance of movement and presence that is rare among straight opera singers, and her singing was amazingly secure, tracking Berg's long angular lines with apparent ease".
The Toronto Sun, John Coulbourn
17th April 1991
"Rebecca Caine has things like talent, discipline and control – and all of them come together with dazzling effect in her performance in the title role of Lulu…Caine spreads her vocal wings to take and subdue this more serious and demanding medium with the grace of a pro and the panache of a star".
The Toronto Star, William Littler
15th April 1991
"The ingeniousness of Rebecca Caine's portrayal in the new production resides in her ability to transform herself, vocally as well as visually, as Lulu passes from man to man, the girlish ingénue in the artists studio, becoming the worldly sophisticate of the salon and ultimately the wretched street walker…she is the best prepared Lulus I have encountered, and as a first take on the role, her performance is remarkable".
Opera News, Urjo Kareda
September 1991
"Caine…was singing her first Lulu. Skepticism vanished when confronted with the sureness of her musicianship. She used her voice with a sharp intelligence and demonstrated an allure of presence and ease of body that made her unforgettable".