Reviews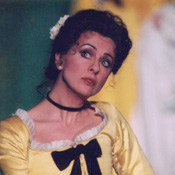 Recent Reviews
Rebecca Caine as Raquel De Angelis in Living On Love, Asolo Rep Winter 2016
Andrew Meacham
Tampa Bay Times
"Critics gave respectable marks to Renee Fleming in her Broadway debut,but some complained that the real-life diva of the moment was too good-natured as Raquel to be effective. Caine suffered no such difficulty in the Asolo production, hitting just the right notes as a diva hilariously crippled by self-adulation and past glories. Caine can do so much with an eyebrow, with pursed lips or the turn of her head. Caine rewards the audience for waiting with a complete song, a rendition of Irving Berlin'sAlways. Another romantic resolution you saw coming (and one you didn't) tie up the show with a bow. For those looking for burning depth or characters six layers deep, this show is not for you. But if you enjoy good acting, gentle, self-satirizing wit and the best voice you will hear in musical theater for a while, see Living on Love before the end of its run."
Joseph Amato
The Bradenton Times
"Caine demonstrates a rich, resounding voice as the Diva, and when she sings in synchronization with selected operatic orchestral pre-recordings, her voice booms throughout the theater. She teases the audience. Just a few bars to enable you to recognize the melody and the operatic work, but not enough to be satisfied. If opera is an addiction, her teasing leaves you in a constant state of aria withdrawal. Now, her part in this plot is not a story "about" a Diva. When she begins to sing those segments of well-known opera melodies, the Diva is "there," alive, performing in front of you. The only part that remains hard to conceive is that this operatic talent belongs to a waning career, at least according to the storyline."
Jay Handelman
Herald Tribune
"Caine gets to sing a bit (and beautifully) and practically floats about the stage as a woman who is accustomed to being the center of attention. Every move is graceful and calculated for maximum attention."
Rebecca Caine as Katisha in The Mikado, Charing Cross Theatre, Winter 2014/15
Libby Purves
Theatrecat.
"Rebecca Caine is a fabulous, fearsome Katisha, her huge voice easily filling the theatre at times, expressively soft at others. We feel pity (and not a little anxiety) for Katisha within moments; her fragility is endearing, as is her bitter bravado, sung superbly by Caine and acted with gleeful menace, shot through with a real fear of being alone. The reason The Mikado can move us, despite all its apparent silliness, is that some of its humour is in fact presciently serious at heart."
Jonathan Baz reviews.
"The performing excellence of this production lies with its women. Rebecca Caine's Katisha is a masterclass. Her vampish, vulnerable and (sometimes) baddy is a flawless display of perfection in her craft, her voice filling the auditorium and her presence, alongside hilarious poise and facial expression, stealing every scene."
Evening Standard.
"Rebecca Caine's Katisha is a gargoyle from the dark side of opera seria."
Broadwayworld
"But the late entrance of Rebecca Caine as Katisha - a kind of Goth Stevie Nicks - steals the show even from Mark Heenehan's absurd Mikado. Katisha's plaintive lament "Alone and yet alive" beautifully transforms her character and is given full value by Ms Caine, whose only flaw is her hopeless inability to be ugly!"
entertainment-focus
"Without a doubt, the star of the show was Rebecca Caine as Katisha, the vengeful lover. Her arrival at the end of act one is the show's highlight as she stalks around the stage, brandishing an umbrella at anyone daring to come close enough. Caine is camp and commanding and really does elevate the entire production with stellar stage presence"
JohnnyFox:CriticalMass
"Rebecca Caine makes so much more of Katisha than you'll have seen in previous productions, bestriding the stage as a predatory cougar and dressed like a character from E F Benson, relishing both the comedy and the glorious arias she delivers impeccably. Hearing how tremendously good she is in this role, it makes you wonder why her career hasn't been studded with more West End leads since she originated Cosette in Les Miserables thirty years ago."
The Stage
"Rebecca Caine - Les Miserables' original Cosette, no less - projects both vocally and dramatically. A striking Norma Desmond-like figure, Caine nails the character instinctively, colouring her aria with plenty of comic touches and yet bringing genuine pathos to Alone, And Yet Alive. Caine's presence lifts an otherwise thin production that requires a much stronger sound to merit this difficult space."
GrumpyGayCritic
"Caine absolutely steals the show as Katisha. There's a power and playfulness in everything she does to make her an expert villain, making Cruella DeVille look like Mary Poppins by comparison. Yet, she brings a tenderness and unexpected humanity for her more reflective arias, especially "Alone, And Yet Alive" that is as unexpectedly striking."
Everything-theatre.co.uk
"Unquestionably however, the highlight of this play is a barnstorming performance from Rebecca Caine, whose Katisha, with her 'caricature of a face' steals the show. Genuinely devastated at having been jilted by Naki-Poo, she swears revenge and assumes as much right to order people around as the Mikado himself, much to his chagrin. Her tragedy comes through when she asks us 'who knows as well as I do that no-one yet died of a broken heart?' But she is hugely comical when she settles on Ko-Ko to be her husband, and asks if he won't mind if she's 'just a tiny bit blood thirsty?'
The Express
"Soprano Rebecca Caine as Katisha, fearsome "daughter-in-law elect" of the Mikado (Mark Heenehan), resonantly quells any argument with a prolonged top note."
Rebecca Caine in The Sound of Music at Kilworth House Theatre, Summer 2012
The Daily Express, Neil Norman
"The production is given a extra oomph with the inclusion of the operatic voices of Jan Hartley as the Mother Abbess who stops the show with Climb Every Mountain and Rebecca Caine as the glamorous Elsa Schraeder."
Rebecca Caine at Lower Ossington Theatre, May 2012
NOW MAGAZINE, Glenn Sumi, May 2012
Raising Caine
The art of cabaret is alive and well, thanks to the Green Door Cabaret, which has been running at its intimate space on the ground floor of the Lower Ossington Theatre for a year now. Helmed by Robert Missen, the room features an eclectic mix of performers: jazz, spoken word, poetry – you name it. Last Friday, Rebecca Caine, known to local audiences for her musical theatre work (she created the role of Christine in the Toronto production of Phantom Of The Opera) and opera (Lulu, The Cunning Little Vixen), delivered a spirited set that amounted to a mini history lesson in musical theatre.
She began by lamenting the fact that most modern musicals lack roles for sopranos; they're made "for belters." She then took us back to the era of musical singing stars and performers who either "drank themselves to death or married into the aristocracy."
These ditties were perfectly suited to Caine's sweet-toned voice, and she exuded what we see too little of these days: real charm. Between songs, she regaled us with backstage anecdotes, little bits of trivia (who knew that 1930s dancer/singer/actor Jessie Matthews was related to our own Sharron Matthews?) and a couple of bitchy (but fun-spirited) jokes, too.
Highlights in the first half included I'll See You Again, dedicated to the memory of baritone Dietrich Fischer-Dieskau, who had passed away earlier that day; Gangway, a cute novelty song that wouldn't be out of place in The Drowsy Chaperone; and two contrasting numbers from My Fair Lady, impeccably thought through and sung.
The second half focused on more contemporary musicals, but even here Caine produced surprises, like a brilliant song from another version of Phantom Of The Opera (by Maury Yeston) and two Sondheim gems. She ended the concert in style with a bravura performance of Think Of Me, from the better-known Phantom, and returned for a moving encore: Jean Valjean's Bring Him Home, preceded by a story about soldiers singing that song in Afghanistan.
The highlight of the night was her duet with her Toronto Phantom co-star Byron Nease on All I Ask Of You, which they made more than the saccharine wedding song it's since become.
A class act.
SALAD DAYS, Riverside Studios 2010/2011
Daily Telegraph, Rupert Christiansen, December 2010
"Sam Harrison and Katie Moore are very endearing as the dippy young lovers, Tim and Jane, Rebecca Caine does a hilarious turn as languid Lady Raeburn and Kathyrn Martin puts across Asphynxia'ssmoochy nightclub number with aplomb. The dancing, choreographed by Quinny Sacks, is terrific: I almost volunteered to join in myself.
For my money, this has got to be the best musical in town."
THE CORONATION OF POPPEA, Kings Head 2011
Opera, Peter Reed
"It was a miracle Rebecca Caine's Ottavia didn't upset the balance.
Her singing and acting were of a much higher standard and her Sybil -like delivery of Michael Nyman's specially composed intervention aria clinched the power of her portrayal."
The Daily Telegraph, Rupert Christiansen
"Rebecca Caine's Ottavia lends the evening a touch of vocal class: her sumptuous rendition of Nyman's impassioned inserted aria – a stand-alone hit, I would guess – was the one point in the evening which blazed into emotional fire."
The Guardian, George Hall
"At its best it possesses a quiet integrity that exposes the interiors of some of opera's first great psychological portraits.
There's a poisoned grandeur to Rebecca Caine's Ottavia, while the scariness of Jessica Walker's Nero never quite goes away, even in his love scenes with Zoë Bonner's sexually confident Poppea."
The Times, Neil Fisher
"I don't think it's a coincidence that the most striking moment has nothing to do with the original opera at all.
Enter Rebecca Caines's bloodied former empress Ottavia.
Ravenhill has employed Michael Nyman to bring her back to burst the bubble of the Emperor.
Caine's Ottavia, boosted by that extra aria, has real force throughout."
OWEN WINGRAVE, Chicago Opera Theatre, Spring 2009
Wall Street Journal
"Matthew Worth was a poignant Owen: Matt Boehler was a sympathetic Coyle: and Rebecca Caine, a bright high soprano, was appealing as Coyle's wife."
Musical America
"Bass- baritone Matt Boehler managed a skilful emotional mix as Spencer Coyle. As his wife and sole female ally, Rebecca Caine was a lovely and warm hearted presence, her bright soprano soaring easily in Brittens lyrical melodies."
Timeout
"Beautifully supported by (Steuart) Bedford and his orchestra, the four female roles shine in this cast-most notably Rebecca Caine as Mrs Coyle, whose dynamic range projected easily throughout the theatre with vigorous emotion"
Chicago Sun-Times
19 May 2009
"Rebecca Caine's bright soprano made her Mrs Coyle an endearing exception to the opera's phalanx of disapproving women."
Opera News
August 2009
"Tenor Robin Leggate limned Sir Philip's writing with a timbral grace the nasty old man barely deserved. Matt Boehler and Rebecca Caine sang beautifully as the sympathetic Coyles, as did Brian Anderson as Lethmere"
Chicago Theatre Blogspot
"As Mrs. Coyle, Rebecca Caine provided a welcome vivacity and charm to the dour proceedings"
LEADING LADIES - Lauderdale House
reviewed: Thursday, September 4, 2008
Musical Stages - Summer 2008
Rebecca Caine – LEADING LADIES
Lauderdale House
Chris Goepfert
As most of us will remember, Rebecca originated the role of Cosette in Les Miserables and also played Christine in Phantom of the Opera both here and in the Canadian premiere, both recordings I consider still to be the best of both musicals.
Having had an extensive career in both Opera and Musical Theatre, she now turns her attention to all those diva that have made the leading lady such a driving force in the theatre.
Using the Merry Widow's entrance by Lehar, Rebecca arrives on stage looking like an Erte painting. We are then treated to a fascinating journey through the world of the diva over the past 100 years.
Starting with Gertie Miller from the early 1900s who played the lead in Lionel Monckton's Our Miss Gibbs," Moonstruck" is a wonderful song which Rebecca sings to perfection. Composer Noel Coward created many leading ladies, the most famous being Gertrude Lawrence and she is fully represented in such songs as " Parisian Pierot " together with Lawence's roles in Gershwin and Kurt Weill musicals.
There is a wonderfully spirited version of " Do, Do, Do" from Oh Kay! As well as the poignant "Someone to Watch Over Me".
Cowards Bittersweet introduces us to the wonderful Evelyn Laye with I'll See You Again" then we moved on to my personal favourite Jessie Matthews. Here Rebecca shone while singing " Gangway", "Dancing on The Ceiling" and of course,
" Over My Shoulder".
Mary Ellis, Lisbeth Webb and finally Julie Andrews bought us up to date with classics such as " Wouldn't It Be Luverly" and ! I could Have Danced All Night".
But this was more than a collection of songs. The character of each leading lady was brought to life with vivid stories of their lives and loves and believe me, some of these ladies would be well at home on the covers of "Hello" and" OK" magazines.
In fact, some make Amy Winehouse's behaviour seem rather normal!
The best word to describe Rebecca's performance is "exquisite". Her singing, movement and look scream style, class and talent.
And one must not forget the great Gerald Martin Moore who co- created the show and not only provided impeccable musical support but also played several of the male characters who supported the various ladies. His Coward was wonderfully observed but he could just as easily switch into a cockney accent which was far more convincing than that of Dick Van Dyke. He also displays a dry sense of humour, commenting on the lives of the ladies.
All in all, a show that is not only stylish but also fascinating and I left feeling not only entertained but a little more knowledgeable- sign of a great cabaret show.
You can sample the songs on the CD, Rebecca Caine, Leading Ladies.
Seven Deadly Sins, Opera North
The Observer, Anthony Holden
reviewed: Monday, July 23, 2007
"Rebecca Caine and Beate Vollack are both superb as the singing and dancing Annas.... Where Caine is elegant and eloquent, Vollack is agile and courageous"
Cunning Little Vixen
Peter Dyson
"Rebecca Caine seems to have been born and trained to play the Vixen; her secure lyric soprano easily encompassed the vocal line and coupled with her physical grace and incisive acting to make her an enchanting figure."
Merry Widow ( Opera Holland Park ) 2006
reviewed: Friday, June 8, 2007
Opera Magazine, Warwick Thomson
"Rebecca Caine was marvellous as Hanna. Her firm , clear voice and excellent diction were a pleasure, and her acting was just knowing enough without ever being arch. Her timing was perfect, her jokes landed properly, and her " Vilja" was beautifully done."
The Times, Neil Fisher
" Best of all, thankfully is the Widow herself, the glamorous , magnetic , Hanna Glawari.
Rebecca Caine sings the wistful " Vilja" with silky elegance , dances with infectious panache , and gives us a multi shaded heroine to cherish - just as vulnerable as she is feisty , it's a performance to treasure , and it's one that breaks all the surface gloss to find the true emotional heart of Lehar's confection.
In a mixed season so far at Holland Park , Caine's show- stealing turn is an undoubted highlight."
The Independent on Sunday, Anna Picard
"As the eponymous heiress, Rebecca Caine slips effortlessly between artful flirtation and artless candour, looking a million dollars , and singing with a sweet , delicate soprano."
The Independent, Edward Seckerson
"Hanna , of course , should be the star of the show and was in Rebecca Caine's glamorous and beautifully sung performance. This Widow was merry all right - but she was wistful and nostalgic, too . Most importantly, she commanded respect. "